When it comes to promoting a business, you no longer need to spend so much on your advertising campaign compared to traditional marketing. You can establish who you are and what you sell with the help of social media marketing. However, before we go any further, you should know first what marketing was like before the Internet came along and changed everything.
More than 20 years ago, marketing was limited. It was something expensive and not readily available to everyone, especially for small companies. Back then, all businesses could only promote on newspaper adverts, TV commercials, radio announcements and curbside posters, and these mediums could only reach people who lived nearby. That means no one else would know about your business unless they visited and stayed where you advertised.
However, as mentioned above, marketing changed a lot when the Internet came, along with social media. This shift allows businesses to promote their products or services on a platform with millions of users and reach potential customers across the globe.
With social media, any business can grow, thanks to its opportunity for organic growth. After all, they only need to think of a social media marketing strategy that fits perfectly with their brand and apply it to their campaign.
What Exactly Is Social Media Marketing?
Social media marketing is a type of digital marketing used to promote products and services on social media platforms, such as Facebook, Twitter, Instagram, LinkedIn, and many more. Here, a brand could interact, connect, and communicate with its potential customers on a much personal level.
Just like traditional marketing, the role of social media marketing is to raise brand awareness. The only difference is that you can engage with your potential customers and help them learn more about what you offer by answering their inquiries, whether through comments or chats.
To be successful in social media marketing, you need an in-depth understanding of your target audience. Doing so should help you get the most out of social media marketing platforms when you release your campaign.
You should be aware that the social media marketing landscape is constantly evolving. What we know today may not be applicable in the future sooner or later. That is why you should always be on the lookout for the latest trends and happenings in social media marketing.
Part 1: Importance Of Social Media Marketing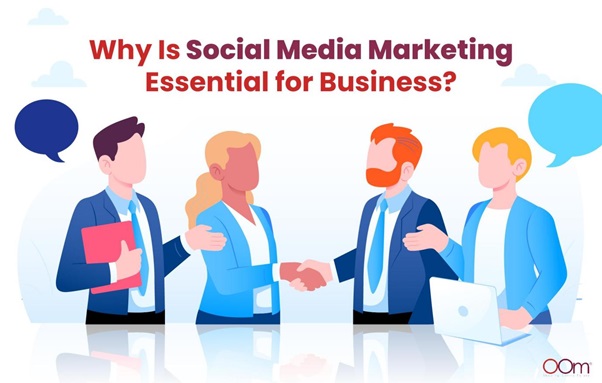 We all cannot deny that we have arrived at the point where social media platforms are no stranger for brands as part of their digital marketing strategy.
That is not surprising since the Statista Research Department expected to have 3.96 billion people using social media worldwide by 2022. They also mentioned that the numbers will grow to more than 4.41 billion in 2025 and years to come.
Nowadays, most consumers, especially the younger generation, are sceptical about brands with no social media presence. When such cases happen, they tend to look for another brand that provides similar products or services. And that is not good if it happens to your business.
Think of it this way: Would you trust a brand that no one knows what it offers? Of course not. As a consumer, you would want to know all the information on a brand before making an informed decision.
Besides that, we listed below the reasons why your business needs social media marketing. Reading those would help you understand the importance of social media marketing for your business.
4 Reasons Social Media Marketing Is Essential For Your Business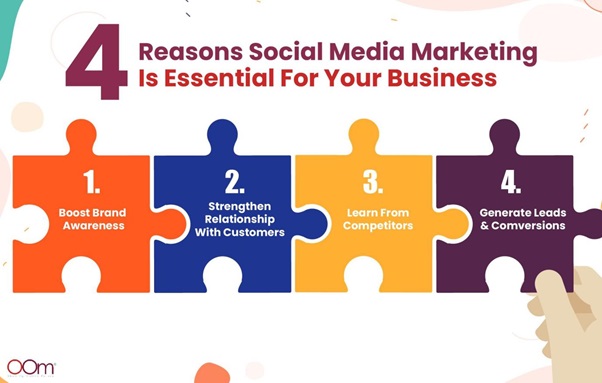 How exactly does social media marketing benefit your business?
1. Boost Brand Awareness
Do a quick survey among your peers and find out how many of them first discovered a brand through social media, there is a high possibility that the majority of them would agree as an average social media user spends 145 minutes a day on social media. According to the Statista Research Department, the hours spent on social media would steadily increase over time, which is why social media is most likely the first contact that consumers would have with a brand.
Even though it might sound a little intimidating, social media marketing offers a vast opportunity for small businesses. Not only is it cheaper, but social media marketing often requires shorter lead time to set up compared to traditional marketing. That means you could focus more on other vital tasks in your business operation once done with your social media marketing duties, such as posting campaigns, answering comments, replying to chats, etc.
Also, when your brand has a successful social media account, you can introduce your products or services to more people. Be it a Facebook marketing campaign featuring a viral story or a spectacular scenery on Instagram—your brand could reach out more than you can ever imagine.
ALSO READ: 5 Examples Of Successful Viral Marketing Campaigns
Another way social media marketing can boost your brand awareness is to collaborate with other brands that are not your direct competitor. For example, many brands have collaborated with BTS this year, such as Puma, Mattel, Fila, Samsung, especially Mcdonalds, which have released a BTS Mcdonalds meal across 50 countries.
Nevertheless, to get the attention of everyone through social media marketing, you have to be aware of the social media platforms you are posting on and use the current trends wisely. Doing so would help you create a campaign that can be entertaining and memorable to your target audience.
2. Strengthen Relationships With Customers
When you market your products or services on social media, you can build a community around your brand. They could be customers who have been loyal to you since the inception of your brand.
You should know that customer loyalty is the trust your brand has earned and established from your customers. When a customer becomes loyal to you, that means they have high expectations for your products or services. Apart from purchasing from your brand, loyal customers also tend to endorse you to people they know. And that provides you with free and positive word of mouth advertising.
That is why many brands run loyalty programmes so they would be able to convert customers to loyalists and nudge them to spend more by giving them discounts or exclusive promotions.
However, before you reach that point, there are more stages you have to go through. Here are the stages of the customer purchase journey in your social media marketing: awareness. consideration, conversion, and loyalty
Once you have successfully established a community, this group of people will help your brand stand out and appear more appealing to people outside your reach. You can also build and strengthen the relationship with your existing and new customers through engaging with them to understand their needs.
3. Generate Leads & Conversions
The key to recurring sales is to build loyal and engaged customers. With them by your side, your brand would be able to stay afloat, even in unprecedented times, such as the COVID-19 pandemic.
However, is it the same for first time sales and conversion? Can social media marketing help with that? Of course! As mentioned above, you can improve your brand awareness with the help of social media marketing. If done right, you expect to gain traffic and conversion rates going to your website as a result.
With more potential customers visiting your website and checking out the full details of digital content creation, infographics or articles you have produced, your brand becomes more visible organically. That means your website would have a higher search engine ranking on search engines like Google, Yahoo!, or Bing.
Just be careful not to hard sell on social media. If you do, chances are your customers will find your social media marketing campaign too pushy, which could cause a negative impression on them. The message put across should serve the followers' needs.
4. Learn From Competitors
When it comes tosocial media marketing, you could take advantage of the social media of your competitors. When doing your marketing research for your next social media marketing campaign, you can check out their platforms and see what is going on. There, you can gain ideas on how to approach your target audience differently and help your brand stand out from the competition.
In other words, being aware of your competitors will help you manage your business even better. That is why before you release any social media marketing campaign about your products or services, always check out your competitors.
3 Types Of Social Media Marketing Channels
There are several types of social media marketing channels, and each one has its purpose and usage. Knowing what they are and their differences would help you use the right one for your business. As such, you can get the most out of the social media marketing channels to promote your products or services more effectively.
Listed below are the types of social media marketing channels you need to know and how to use them to your business's advantage.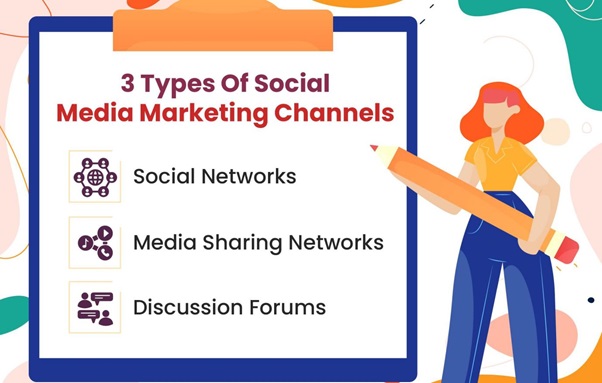 1. Social Networks
When it comes to social networks, they allow your business to interact with your target audience. They can share a range of multimedia content from your page to their personal social media account.
A great example of social networks is Facebook, Twitter, and LinkedIn, where users can share anything on the personal network they have built. For instance, when you have decided to promote your products or services via LinkedIn ads in Singapore, your target audience shares that campaign on their LinkedIn account, and their followers can see it there.
2. Media Sharing Networks
Unlike the first type of social media marketing, this one is all about users, searching, saving, browsing, and sharing multimedia-based content, such as images, videos, live videos, stories, and other kinds of media on the web.
What is the difference between media sharing networks and social networks? Here, users cannot share multimedia-based content on their newsfeed. They can only share them on other social media platforms and not on the media sharing networks themselves.
Examples of media sharing networks are:
YouTube
Instagram
TikTok
Snapchat
3. Discussion Forums
As the name suggests, the discussion forum is a social media marketing network where anyone can discuss things they want to know and learn about a particular topic. Here, anyone can post and share their experiences, opinions, ideas about any discussion board they would like to answer. Be it with the names attached or anonymously.
For example, if your target audience wants to learn more about your products or services from a past customer's perspective, they will ask the public's opinion about their experiences.  When their question receives positive answers, they will most likely purchase from or rely on your brand.
Nevertheless, you can find the discussion forums on Reddit, Quora, Singapore Expats, Flyers Talk, SG Talk, and Digg.
Part 2: How To Create Social Media Marketing Strategy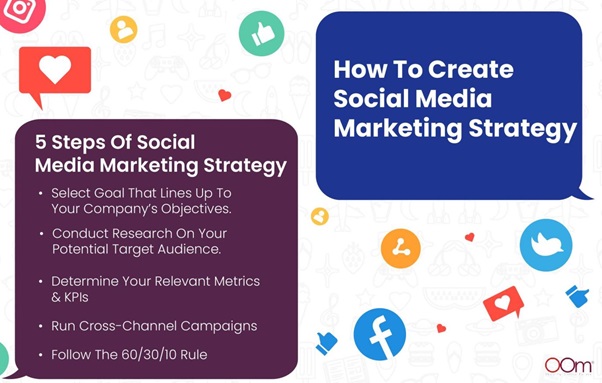 When creating your social media marketing strategy, keep in mind that it all depends on what industry your brand is in and the products or services you offer to your target audience.
To ensure your next social media marketing campaign would do great, consider following the steps below. Make sure to take your time on each step before moving to the next one. As such, you can thoroughly plan your social media marketing strategy.
5 Steps Of Social Media Marketing Strategy
1. Select Goal That Lines Up With Your Company's Objectives.
To set the right goal that makes sense for your business, you need to answer the most crucial question: what do you want to get from your social media marketing?
If you know the answer, that is great. Just make sure to set a realistic and relevant social media marketing goal that lines up with your company's objective and capabilities.
However, if you still have no idea what goal you should select, you could take reference to some points below for your social media marketing strategy.
Boost your brand awareness
Generate more leads and sales
Expand your brand's target audience
Improve your social media community engagement
Drive more traffic to your website.
2. Conduct Research On Your Potential Target Audience.
It will be easier to create a social media marketing strategy if you know who to target for your campaign. To determine who they are, you should consider researching your potential target audience.
You should know that researching is a very crucial step for marketers. When done right, you could create more quality, relevant, engaging social media marketing campaigns. That is why you should not try not to make assumptions and skip this step.
To do proper research on your potential target audience, you need to use the right tools. Here are a few free-market research tools you can use for social media marketing.
Facebook Marketing Insight
Survey Monkey
Followerwonk
When you use either one of these free-market research tools, you would be able to know the location, age, gender, interest, career, relationship status, motivation to buy, favourite apps or sites, and purchase concerns of your target audience. With these pieces of data, you could think of a much more effective and creative social media marketing campaign to attract them and nudge them to take action.
3. Determine Your Relevant Metrics & KPIs
All too often, brands create social media presence and spend on other digital marketing services without ever establishing if they are making any progress, which should not be. Regardless of your goal for your social media marketing strategy, it should be data-driven.
That means you should focus more on social media marketing metrics that matter and make sure they all line up with your company's objectives. Some examples of social media marketing metrics are:
Target Audience Reach
Number of Clicks
Customer Engagement
Hashtag Performance
Just keep in mind that an effective social media marketing campaign has high-performance rates. That is why you should keep track of your results from time to time and make adjustments if they are not performing.
4. Run Cross-Channel Campaigns.
As mentioned above, many businesses have more than one social media platform. They often tie them up with others so they would be able to reach wider audiences.
However, running cross-channel campaigns is easier said than done. You have to be careful about the number of words and tone your posts have since every social media platform is different.
For instance, when it comes to LinkedIn ads in Singapore, your campaign should sound and look more professional as much as possible. Doing so should help attract more experts, leaders, and business owners if you are a business to business company.
5. Follow The 60/30/10 Rule.
When it comes to creating social media strategy, there is a rule of thumb that you should always follow—the 60/30/10 rule. This social media marketing technique allows you to promote your products or services more effectively.
Here is how it works.
60% of social media marketing campaigns should be engaging, which attract people to like, leave a comment, and share.
30% of social media marketing campaigns should be shared content from your fans, followers, etc.
10% of social media marketing campaigns should be the promotion of your products and services
Following the 60/30/10 rule of social media marketingguarantees that your campaign would have a healthy and balanced ratio between engaging, inspirational, and promotional.
Part 3: What to Expect From Social Media Marketing In 2022?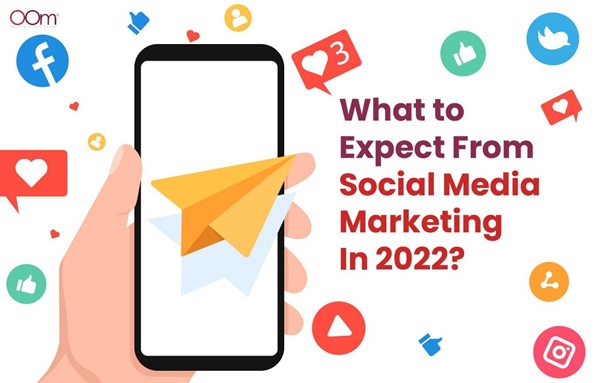 Every business owner should know that social media platforms are dynamic mediums. Each one is constantly changing its algorithms and adding new features that make it even better for users.
However, as social media platforms keep shifting, it becomes more challenging for marketers to promote products or services to keep up if they have no idea what changes. That is why you should keep yourself updated about the latest trends and features of social media that you can use for marketing in 2022.
Listed below are some of the social media marketing trends that you can expect for 2022.
1. TikTok
This year in 2021, TikTok stole the hearts of many marketers and people from Instagram. It has become the fastest growing social media app in the world with the highest returns on investment. With 1 billion monthly active users, this achievement surpasses Instagram.
Check out the TikTok and Instagram comparison chart to see the difference in their growth.
Besides that, TikTok recently released its creator marketplace. With this new feature, brands can now promote themselves even better as they partner with appropriate creators. That is why many marketers agree that 2022 will be the year for TikTok, dominating the social media marketing platforms.
2. Instagram
Even though TikTok took the spotlight that Instagram had held on for years, this social media platform continues to strive on. In October 2021, Instagram announced its newest features: Partnership Inbox, Scheduling Stories and Lives, Desktop Posting, Text-To-Speech on Reels, 'Add yours' Story Sticker, and Data-driven influencer search.
With these new add-ons, it becomes easier to promote social media marketing campaigns on Instagram. Thus, familiarise yourself with these so you can stay ahead of your competitors.
3. Facebook
The success of Facebook as one of the largest social media marketingin the world does not end. Taking inspiration from Patreon, Facebook has expanded its fan subscription program.
This feature allows creators and businesses to earn some money from the people following their page. As such, their followers who subscribe would not only have more a more personal experience with the brand, but they would also gain access to exclusive content, receive updates earlier, and merchandise discounts.
Is Your Social Media Marketing Strategy Ready For 2022? (for the conclusion)
Being quick-witted and well-prepared is crucial to getting the most out of social media marketing. That is why before the year 2021 comes to an end, make sure to get your social media marketing strategy all sorted out. As such, you would be able to interact, connect, and communicate with your target audience in 2022.
If you need help with the social media marketing of your company, try getting in touch with a social media management firm in Singapore. Visit OOm today or contact them at 6391-0930.